Discover more from MAN of MISSOURI
Small town storyteller – Rabbit hole explorer – Polite bomb thrower
School Wars: Episode V — The Librarians Strike Back
…and where the Willard Board of Education candidates stand (or don't) on book challenges
TL;DR
NOTE: If you're reading on a smaller device, tap to enlarge the images.
First, the Missouri Association of School Librarians (MASL), a lobbying and advocacy nonprofit of which many school librarians in Missouri are members, including most of Willard's, is suing to return to library shelves this list of 300+ books. The petition claims the books were wrongly removed after the Missouri General Assembly in August passed SB 775 that prohibits sexually explicit material in schools. Five sets of images of some of the materials MASL is suing to have returned can be found further below.
Thanks for reading MAN of MISSOURI! Subscribe for free to receive new posts and support my work.
Second, how would the school board candidates likely react to book challenges? I'd place each of them along the following spectrum, and will explain my reasoning in the section entitled "How would the candidates vote":
Third, if you'd like to learn more about each candidate, see these articles from the News-Leader (beneath the section on books), KY3, and the Greene County Commonwealth. You can also watch Thursday's candidate forum here.
Introduction
NOTE: Tap to enlarge the images.
As I write this, I have in mind friends and family who hold widely divergent opinions of what is and what isn't age-appropriate content in school libraries — some want explicit LGBTQ+ materials to be available, whereas others do not. I love my friends and my family. I'd like to see all of them secure in their right to educate their children as they see fit. And I'm tired of seeing that right constantly under threat.
I last wrote about school library books in October. In August, the Missouri General Assembly had just passed SB 775 — a ban on sexually explicit visual material in schools. That article only discussed sexually explicit traditional print novels, not library materials with visual depictions, such as graphic novels (glorified comic books).
After hearing about the librarians' lawsuit that was filed in February, I contacted the ACLU of Missouri to ask for a few examples of the books that MASL is petitioning to have returned to library shelves. The ACLU helpfully provided this list compiled by PEN America.
This article will include images from school library books that do contain sexually explicit visual depictions. Back in October, while researching the Willard school library catalog for sexually explicit traditional print novels, I did not find any of the titles featured here, but some or most were either present or had been challenged in Ozark, Nixa, and Springfield schools.
Per the ACLU petition, if the law that resulted from SB 775 is not declared unconstitutional, the petition seeks to "ensure that materials already removed improperly be returned to library and school collections." Again, here is the list of books MASL claims were removed improperly. This article will focus on five of the books from that list. They are:
Flamer
This Book is Gay
Gender Queer: A Memoir
Fun Home
Let's Talk About It
One thing you'll immediately notice about each of the books above is that they all have LGBTQ+ inclusive themes. Originally, I'd planned to do a side-by-side comparison of selected images from the most controversial and least controversial books from PEN's list — some would have included LGBTQ+ content while others would not — in order to show the broad range of content being challenged or removed under the new law. However, I abandoned that idea in favor of making a few larger, more important points.
First, if you insist on having a coercively-funded educational collective where everyone is expected to share resources, you can't just simply write LGBTQ+ kids out of society as if they didn't exist. If sex education is being taught to straight students, or if books containing sexual instruction or advice for straight students are being included in school libraries, then what do you do about the needs of the LGBTQ+ students and their parents? And why be surprised when they want to be included, too?
Second, having talked to a lot of conservatives, these school library books aren't primarily being targeted because of LGBTQ+ content; they're being targeted because of the sexually explicit nature of that content. Most conservatives I've spoken with would be just as unhappy if the sexually explicit content were heterosexual or cisgender. The targeting of LGBTQ+ content has much more to do with its graphic in-your-face nature than it does a desire by some to dismiss the needs of LGBTQ+ people.
Third, these opposing groups are not monolithic — they are splintered into factions, both large and small, each with a different agenda. Most of the parents who embrace having LGBTQ+ content in schools are not "groomers" or "radical secularists" anymore than most parents who are opposed to LGBTQ+ content are "bigots" or "Christian nationalists". Rather, most are regular people, many of whom are likely your neighbors, family, and friends. They just have different values than you do.
However, those smaller factions — whether Christian nationalists or radical secularists — are playing an outsize role in trying to shape the outcome on this issue, each with the goal of imposing their values on everyone else. Most of us would likely be satisfied with leaving each other alone if only people would leave us alone. Unfortunately, we've made it impossible to leave each other alone by our insistence on having a collectivist, government-run educational system. And having that system makes leaving each other alone impossible.
Additionally, regardless of the controversy, you can generally count on the corporate or non-profit press to be, as a friend likes to put it, "factual but not truthful." In the case of book challenges, this means they'll either report that upset parents are trying to ban Batman or X-Men or art books, as EdWeek does here, or they'll list a sanitized offering of titles without ever revealing the content that parents are so concerned about (looking at you, Gannett-owned News-Leader).
One of the school board candidates holds the position that book selection should be left up to policy and qualified library staff. "We need to trust them," the candidate claims. So let's examine what relying on policy and library staff to make those decisions looked like in practice in a number of Missouri schools prior to the passage of SB 775: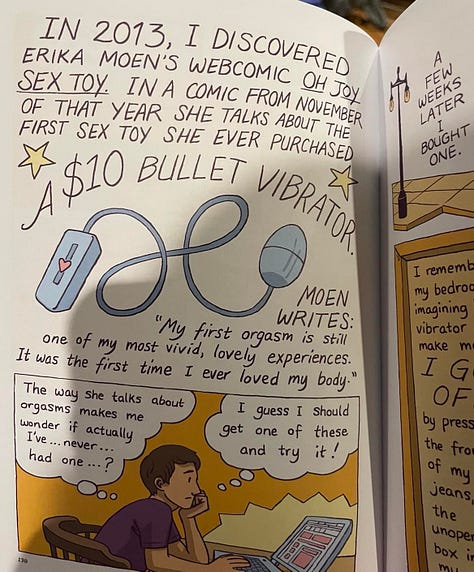 The survey that refused to die
Earlier this year, I asked several Willard parents who hold entirely different political perspectives which school board election issues they were most concerned about. The one issue common to all was that they wanted to know how the candidates would vote on book challenges.
In February, I submitted the first part of a two-part survey to the school board candidates to see where each of them stood on the issue. You can view the first part of that survey here.
The first part consisted of four questions about real-world dilemmas that school boards across the country have had to face, and it included helpful background information to try to make the process of formulating an answer less time-consuming. It involved no written responses, and survey options were limited to either removing, restricting, or keeping the challenged titles that were presented as examples.
Despite having contacted and had interest from five of the six candidates before sending the survey (I wasn't able to find contact info for Curtis Martin), none of the candidates chose to provide answers after they received it. Eric Wilkins and Jason Dixon eventually responded with an explanation of why each had chosen not to participate, whereas Lacee Blunt politely declined to participate but offered no explanation. Sutton Berry and Wes Burrell did not respond at all, nor did they respond to follow-up messages. 
But from those interactions, from reading interviews, from watching the relevant section of the candidate forum, and after some social media research, I was able to form an opinion about where each candidate appears to stand on the issue of book challenges.
The second part of the survey that dealt with critical pedagogy was never submitted to the candidates. Given the lack of a response to the first part, there didn't seem to be a point in sending the second (although I should mention that Eric Wilkins and Jason Dixon did both offer to look at it).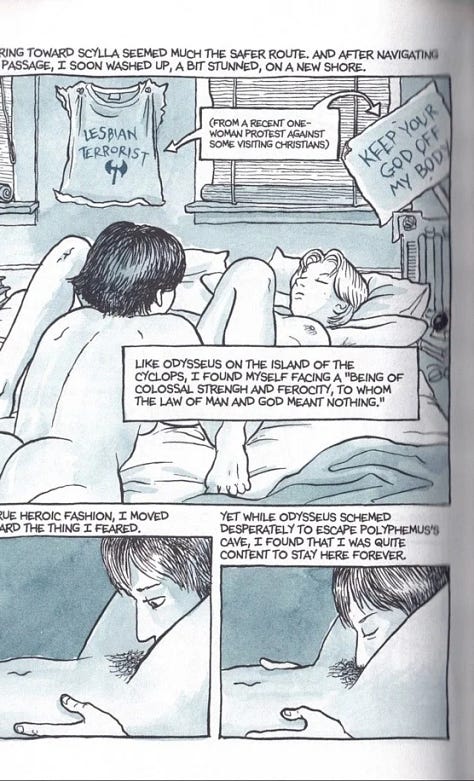 How would the candidates vote?
The italicized quotes below are taken from the News-Leader article mentioned above. I've also included quotes from a couple of email interactions. Additionally, I watched the video from the School Board Candidate Forum. The candidates begin giving their thoughts on book challenges beginning at the 01:17:00 mark. However, the audio is horrible, and two of the candidates are nearly unintelligible throughout much of the proceedings.
The observations below are only my opinions based on available evidence.
Wesley Burrell
Burrell said the district has "great, competent, and caring" librarians and staff.
We need to trust them. It is the board's job to ensure there is a policy and process in place and let the process play out and move forward. If our staff feel a book needs board input, then the board has a direct policy in place for review," he said. "It is very important that each side is heard in regards to any item."
Out of all the candidates, Wes Burrell is very likely the only reliable option for voters who are looking for a candidate who will retain books without restrictions during future book challenges.
His statement above to the News-Leader virtually echoes the position of MASL and the ACLU of Missouri, that is, he supports librarians and believes that "we need to trust them." He also makes very similar comments in the candidate forum video.
Additionally, his spouse, Whitney Burrell, recently 'liked' a Facebook post by local entertainer and firebrand Dallas Jones, in which Jones argued that book removals are "a full on assault on public education by a small group of parents trying to turn a public school into a Christian school." And that, "If [the small group of parents] is not satisfied with [the school-appointed book review committee ] decision, they can then bypass the committee and take it directly to the school board. This is happening a LOT and needs to change [emphasis added]."
Candidate Burrell may not share his spouse's opinion, but for the purpose of this article, I'm going to be open to the possibility that he does. I would have asked him about it directly, but Wes did not respond to my survey, nor did he offer an explanation as to why. He also didn't respond to a follow-up inquiry. Given all of the above, I'm placing him on the "Retain Books" end of the spectrum as the candidate most likely to do so.
Jason Dixon
"I would vote to remove content or curriculum that is unnecessarily graphic or explicit in nature sexually. Age appropriate educational content for our students is the goal, while parents have the ability to supplement other content outside of the school setting as they chose."
As a current board member, Jason Dixon has an established track record of voting to remove books with sexually explicit or vulgar content from school libraries. He clearly states his position to the News-Leader and makes very similar comments in the candidate forum video. I'd rate Jason as very likely to remove books that are challenged, though perhaps not quite as reliably as Curtis Martin.
Curtis Martin
Martin said books with "sexually explicit content and excessively vulgar language have no place in our school libraries."
"Most kids these days have the world in the palm of their hand — their phone — so it would be naïve to think they cannot access this content elsewhere, but I do not feel we should spend the taxpayers' dollars on these types of books," he said.
"I support educational paths that are free from the political and sexual agendas that are being forced upon many school districts today," he said. "My goal would be to use my voice/input to promote and uphold the conservative values within the school district and community."
Curtis Martin's forthright answer to the News-Leader's query would lead me to conclude that he would reliably vote to remove books with sexually explicit content and vulgar language from school libraries, and that he would likely be the most reliable of the three candidates on the "Remove Books" end of the spectrum. However, his audio in the candidate forum video is unintelligible, which leaves open the possibility that he may have softened his stance when asked about it in a public setting.
Eric Wilkins
Wilkins said he'd vote to remove or restrict books "when I feel it does more harm than good to children/youth and our school system."
In an email, Wilkins stated: "[On the] board vote to remove [Oryx and Crake], I totally agreed with and…would most likely vote that way on other books with vulgar and sexual content…I do not believe all things or acts are good, but just because someone acts a certain way does not mean I don't respect and love them as a person, even when I disagree with them."
Eric's answers, along with social media posts from friends, would indicate that he would very likely vote to remove books he regarded as having unnecessarily explicit sexual content and vulgar language from school libraries. Unfortunately, his audio from the candidate forum is unintelligible. Based on his answers above, I'd say that he is at least as reliable on the issue as Jason Dixon.
Lacee Blunt
Blunt did not answer the question directly but wrote: "These are complex issues that require a lot of attention as does every vote a school board member makes. I would like us, as a district, to find a balance and work together to move forward while not losing focus on what matters: our children."
Unlike Jason Dixon and Eric Wilkins, Lacee Blunt didn't provide an explanation as to why she did not answer the survey. After her polite refusal, I emailed Mrs. Blunt to ask how she would have voted as a board member on the two most recent book removals that were decided by the Willard Board of Education. Again, she did not provide an answer.
As can be seen above, she wouldn't provide the News-Leader with an actual answer either. And the answer she did provide them with could best be describe as vague and evasive.
At the candidate forum, she seemed to be trying to take both sides on the issue:
"I would read the book with an open mind. I am not against hard topics or sensitive subjects. I think reading about these topics creates empathetic leaders. However, overly-explicit sexual material in books, there's not a place for that for minors…"
But on the other hand, she stated, "I'm not here to ban books. I'm not here to censor our children. That's not why I'm running for school board…I think we have an opportunity right now to teach our students a true life lesson that we can work together and move forward with people who do not see eye to eye with us…It's important that we're teaching respect, to be kind, that everyone deserves their opinion…"
In light of her responses (or the lack thereof), how she would actually vote on book challenges is, in my opinion, an unanswered question. I'd regard Lacee as being one of two candidates more likely to restrict books during challenges, though perhaps not as readily as the other candidate, Sutton Berry.
Sutton Berry
Berry said books can provide entertainment and help students improve their reading and writing skills, use their imagination, and gain different perspectives.
"I know some books may cross the line for parents due to moral beliefs or what is deemed acceptable or not acceptable because of diverse family settings," Berry said. "Before voting to restrict or remove a book, I would want to fully understand the context of the implied situation, and then I would review the context and determine if it was beneficial to be on the shelves of a public school library."
Berry added: "Ultimately, I believe that any book on the restricted book list must have parental consent before it can be checked out."
Like Mrs. Blunt, Sutton Berry did not offer an explanation as to why he did not answer the survey. Nor did he respond to a follow-up request. Later, I messaged Mr. Berry to ask how he would have voted as a board member on the two most recent book removals that were decided by the Willard Board of Education. Again, he did not provide an answer.
Also like Mrs. Blunt, at the candidate forum, he seemed to be trying to take both sides on the issue:
"It's really not a clear black-and-white. Nor do I think it's the most pressing issue we've got going on in the district right now…Ultimately, I believe that if any parent wants to restrict a book, they have that option."
His statement to the News-Leader's query isn't as decidedly evasive and vague as Mrs. Blunt's, but given his lack of a response to my survey, his apparent unwillingness to answer a straightforward question about the two most recent book removals, and his emphasis on restrictions, I'd have to characterize his position on book challenges as being the most likely of the candidates to restrict books, rather than to retain or remove them.
---
If you're inclined to vote for three candidates who would be more likely to retain or restrict challenged books, I'd recommend voting for Wes Burrell, Sutton Berry, and Lacee Blunt.
If you're inclined to vote for three candidates who would be more likely to remove challenged books, I'd recommend voting for Curtis Martin, Eric Wilkins, and Jason Dixon.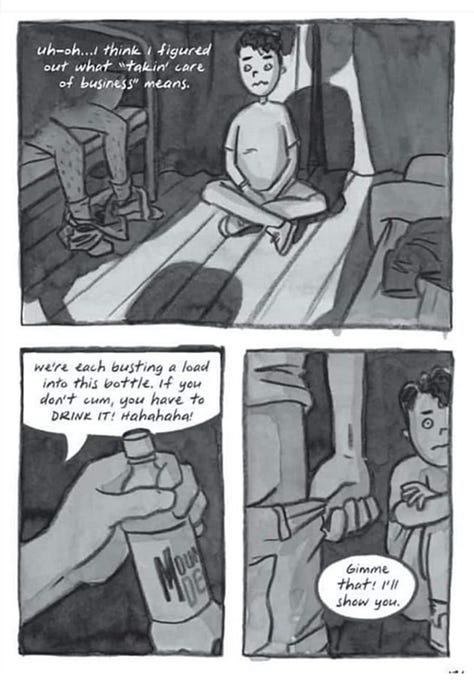 The Librarians (Quietly) Strike Back
In high school, I enjoyed two years as a student librarian. Besides my creative writing teacher, my favorite adult was the school librarian.
If you'd like to better understand some of the concerns school librarians have with the law that resulted from SB 775, read here. Those concerns mainly revolve around intellectual freedom and the fear of prosecution.
Wondering where the Willard School District stood on the MASL lawsuit, I emailed the always-polite Heather Harman-Michael, the district's Director of Communications and Public Relations, and asked.
She responded, "The District is not involved in this litigation and is unaware of its librarians' memberships in MASL or their position regarding the litigation."
Given the district was unaware of its librarians' membership in MASL or of their position on a significant pending lawsuit, I decided to email the librarians directly. I checked MASL's member database to verify each librarian's membership before emailing them:
Hi,
As you're a member of MASL, I had a couple of questions regarding the recent petition filed on behalf of MASL by the ACLU of Missouri.
Director of Communications Heather Michael explained via email that the school district is unaware of its librarians' memberships in MASL or their position regarding the litigation.
If the petition does not result in RSMo 573.550 being declared unconstitutional, Paragraph 119 of Count II of the petition requests declaratory relief ensuring that "materials already removed improperly be returned to library and school collections."
Do you support the petition? 
If so, would you be able to provide a few examples of materials that have, in your opinion, been removed improperly from school libraries in Missouri? Preferably on opposite ends of the spectrum, e.g. ranging from 1984: The Graphic Novel to Fun Home: A Tragicomic.
Thank you.
One librarian politely responded to let me know that her inclusion in MASL's membership database was a mistake. Of the rest, several did not respond at all, while a few others directed me back to Heather-Harman Michael for "an official district comment on this matter."
So I emailed Heather again for an official district comment.
She, perhaps understandably, did not respond back.
Avoiding the issue would seem to be the district's only official position.
In the district's defense, I'm not really sure what else they could do besides try to avoid the issue. Having most of its librarians belong to a nonprofit that's petitioning for the return of library books with instructions on, among other things, how to use phone apps for hooking up with strangers, on the correct use of butt plugs, and on the benefits of dildos, puts the district — and its MASL-affiliated librarians — in a very difficult position.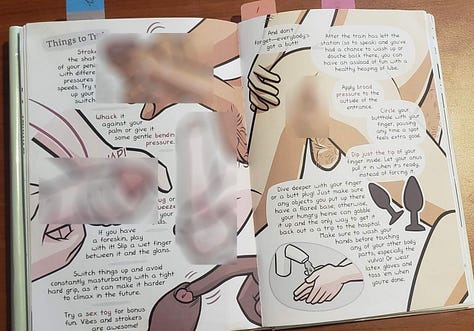 Final thoughts
I don't blame the librarians. They're in a tough spot — caught between parents with completely different values. Nor do I blame liberal parents or conservative parents. Nor straight or Christian or LGBTQ+ parents. And I certainly don't blame my friends and family who feel differently than I do.
What I do blame is a government-run educational system in which a people with wildly different values are all required and expected to share everything, and to try to be the same when they are not.
And I suspect that had most of us not been born into an age of government schooling, that we would quickly recognize how dissatisfied we are with having our family values — whatever they may be — continually under threat — and with having to constantly fight for what we want, or against what we don't — and would probably look for a different solution that didn't involve the state.
Remove your family from the system for awhile, as I have for over a decade as a homeschooler, and you'll begin to see something you hadn't noticed before as you stand back and watch your public-schooling family and friends having to fight with one another. Something that becomes increasingly obvious:
This is America.
What we're doing to each other isn't necessary.
It isn't freedom.
And it should be.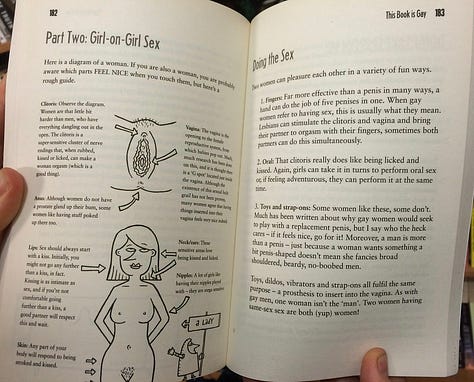 Note: an earlier version of this article referenced SB 377. It has since been corrected to SB 775.
Thanks for reading MAN of MISSOURI! Subscribe for free to receive new posts and support my work.